At this point, you may have already heard about the Mango Ramadan 2015 collection, to be released in stores in the Middle East and online, on June 8. If you haven't heard - here's the gist: Mango, the fast-fashion retailer out of Spain, is launching a Ramadan collection on the heels of last year's DKNY Ramadan capsule collection. Here's a preview of a few of the dresses:
Does anyone else see a problem? For a religion that preaches covering up one's intimate body parts, Ramadan is arguably one of the times of the year that this is more encouraged. Yet, these dresses - gorgeous silhouettes with beautiful designs and details - do nothing to promote this aspect of Ramadan. For all the excitement and sharing, these designs are nothing more than ordinary dresses - not at all designed with the average Muslim woman in mind - released under the pretense of supporting Muslim women observing Ramadan.
I don't have a problem with retailers capitalizing on holidays; I'm all for a capitalistic economy and the free market - it spurs on competition and great products. This is not an argument to preserve the spirituality of Ramadan or the core of it - that's up to the people who observe it.
I do take umbrage with incomplete or half-assed market research, and these arm-baring, lace-backed dresses are prime examples of an industry in sore need of a solid strategic advisor digging into the details to capture an untapped market.
Furthermore, if Muslim women applaud the the arrival of this collection, rather than pointing all the ways to improve, retailers and designers in the future will think they can present any maxi dress repackaged as a "Ramadan" collection.
What Mango fails to do, Tommy Hilfiger does much better.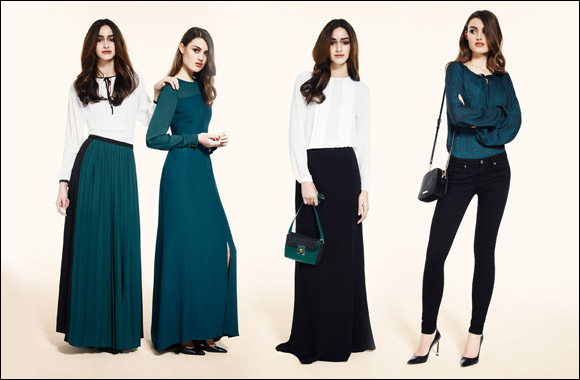 Tommy Hilfiger is also planning to release a Ramadan 2015 collection, to become available in stores across the Middle East starting June 15, 2015 - a week after Mango. According to Dubai PR Network, "The 11-piece collection includes four full-length dresses, two skirts, three blouses and two bolero jackets. Color tones embrace jeweled tones with emerald green, satiny black and creamy whites incorporated throughout." I suspect the colors were inspired by the oft-associated colors of green and white to Ramadan and Islam (which, really, is quite inaccurate). That's forgivable as these designs are so much better than Mango's.
Tommy Hilfiger's designs are everything that Mango is not. The sleeves are long, with drapes that don't cling, pieces that can be mixed and matched, and fabrics that can be worn as a single layer. More importantly, they offer full-length coverage and variety (these aren't all maxi dresses!) that is important to the modest-dressed Muslim woman. With Ramadan spanning 30 days, give or take a few, it's nice to be able to change it up. This is a designer that looked into what a Muslim woman may wear on the day-to-day or special events and provided her with a collection built around those requirements.
If these accounts are true, at this point, DKNY, Mango, and Tommy Hilfiger - major players in the US women's fashion industry - have created lines to coincide with Ramadan. Additionally, there have been reports of British designer Dorothy Perkins having released a Ramadan line last year, in 2014.
While I argue there is no such thing as "Muslim" fashion, it is nice to have special collections of clothes from designers and brands with fashion forward sense entering the market and giving us all one more thing to look forward to during Ramadan.
Post your comments below!